Main Content
造神與解構:1918年以來魯迅形象在中国的構建 Making and Remaking of Lu Xun's Image in China since 1918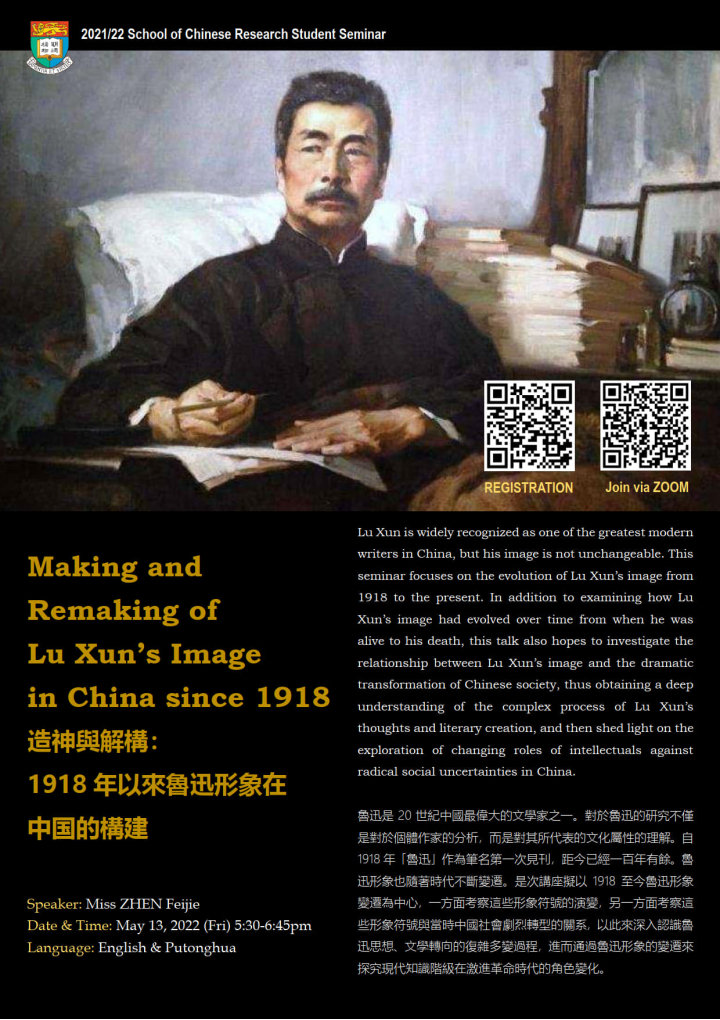 2021/22 School of Chinese Research Student Seminar
造神與解構:1918年以來魯迅形象在中国的構建
Making and Remaking of Lu Xun's Image in China since 1918
Speaker: Miss ZHEN Feijie
Date & Time: May 13, 2022 (Fri) 5:30-6:45pm
Language: English & Putonghua
Mode of Delivery: 100% Online (via Zoom)
Zoom Meeting Link:
https://hku.zoom.us/j/91771674507?pwd=TzZRVGFYTEwxR25lVTZYRVJreHE3UT09
Meeting ID: 917 7167 4507
Password: 963435
魯迅是20世紀中國最偉大的文學家之一。對於魯迅的研究不僅是對於個體作家的分析,而是對其所代表的文化屬性的理解。自1918年「魯迅」作為筆名第一次見刊,距今已經一百年有餘。魯迅形象也隨著時代不斷變遷。
是次講座擬以1918至今魯迅形象變遷為中心,一方面考察這些形象符號的演變,另一方面考察這些形象符號與當時中國社會劇烈轉型的關系,以此來深入認識魯迅思想、文學轉向的復雜多變過程,進而通過魯迅形象的變遷來探究現代知識階級在激進革命時代的角色變化。
Lu Xun is widely recognized as one of the greatest modern writers in China, but his image is not unchangeable. This seminar focuses on the evolution of Lu Xun's image from 1918 to the present. In addition to examining how Lu Xun's image had evolved over time from when he was alive to his death, this talk also hopes to investigate the relationship between Lu Xun's image and the dramatic transformation of Chinese society, thus obtaining a deep understanding of the complex process of Lu Xun's thoughts and literary creation, and then shed light on the exploration of changing roles of intellectuals against radical social uncertainties in China.
ALL are welcome*
*Pre-registration (Click HERE) is requested.