Main Content
電影《紅高粱》的色彩藝術 The Art of Colour in the Film Red Sorghum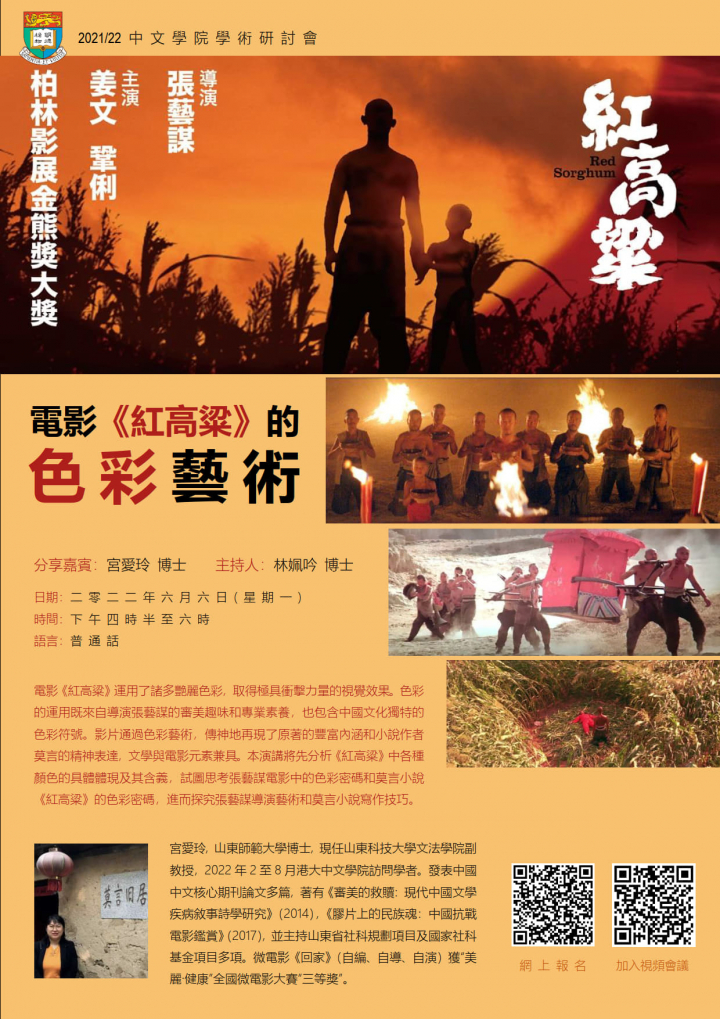 2021/22 School of Chinese Scholar Seminar
電影《紅高粱》的色彩藝術
The Art of Colour in the Film Red Sorghum
Speaker: Dr. GONG Ailing
Moderator: Dr. LIN Pei-yin
Date & Time: June 6, 2022 (Mon) 16:30-18:00pm
Language: Putonghua
Mode of Delivery: 100% Online (via Zoom)
Zoom Meeting Link:
https://hku.zoom.us/j/96962488777?pwd=RnNxNGNKaVNrNndvOGtSTWlMb1Z5UT09
Meeting ID: 969 6248 8777
Password: 090440
摘要:電影《紅高粱》運用了諸多艷麗色彩,取得極具衝擊力量的視覺效果。色彩的運用既來自導演張藝謀的審美趣味和專業素養,也包含中國文化獨特的色彩符號。影片通過色彩藝術,傳神地再現了原著的豐富內涵和小說作者莫言的精神表達,文學與電影元素兼具。本演講將先分析《紅高粱》中各種顏色的具體體現及其含義,試圖思考張藝謀電影中的色彩密碼和莫言小說《紅高粱》的色彩密碼,進而探究張藝謀導演藝術和莫言小說寫作技巧。
The film Red Sorghum applies many bright colours, which generate an impactful visual effect. The colour application is from Zhang Yimou's aesthetic taste and professional training. It also contains the colour symbols unique to Chinese culture. Through the art of colour, the film vividly relays the rich content of Mo Yan's eponymous novel and Mo Yan's thought, combining both the literary and filmic elements. This talk will first analyse the use of colours and its implications in Red Sorghum to decipher the colour codes in Zhang's film and Mo Yan's novel, and then explore the former's art of directing and the latter's literary techniques.
簡介:宮愛玲,山東師範大學博士,現任山東科技大學文法學院副教授,2022年2至8月港大中文學院訪問學者。發表中國中文核心期刊論文多篇,著有《審美的救贖:現代中國文學疾病敘事詩學研究》(2014),《膠片上的民族魂:中國抗戰電影鑑賞》(2017),並主持山東省社科規劃項目及國家社科基金項目多項。微電影《回家》(自編、自導、自演)獲"美麗·健康"全國微電影大賽"三等獎"。
Gong Ailing obtained her PhD from the Shandong Normal University, and is currently Associate Professor at the College of Humanities and Law, Shandong University of Science and Technology, and Visiting Scholar at the School of Chinese, HKU (Feb to Aug 2022). She has published numerous articles in Chinese core journals, and authored two books: Aesthetic Redemption: A Study of the Illness Narratives in Modern Chinese Literature (2014) and Celluloid Nationalist Soul: An Appreciation of Chinese Resistance War Films (2017).
ALL are welcome*
*Pre-registration (Click HERE) is requested.