Main Content
肺病的「死後生命」:當代中國肺病書寫的階級性呈現(1949-1990s) The "Afterlife" of Lung Disease: Class Representation of Contemporary Chinese Lung Disease Writing (1949-1990s)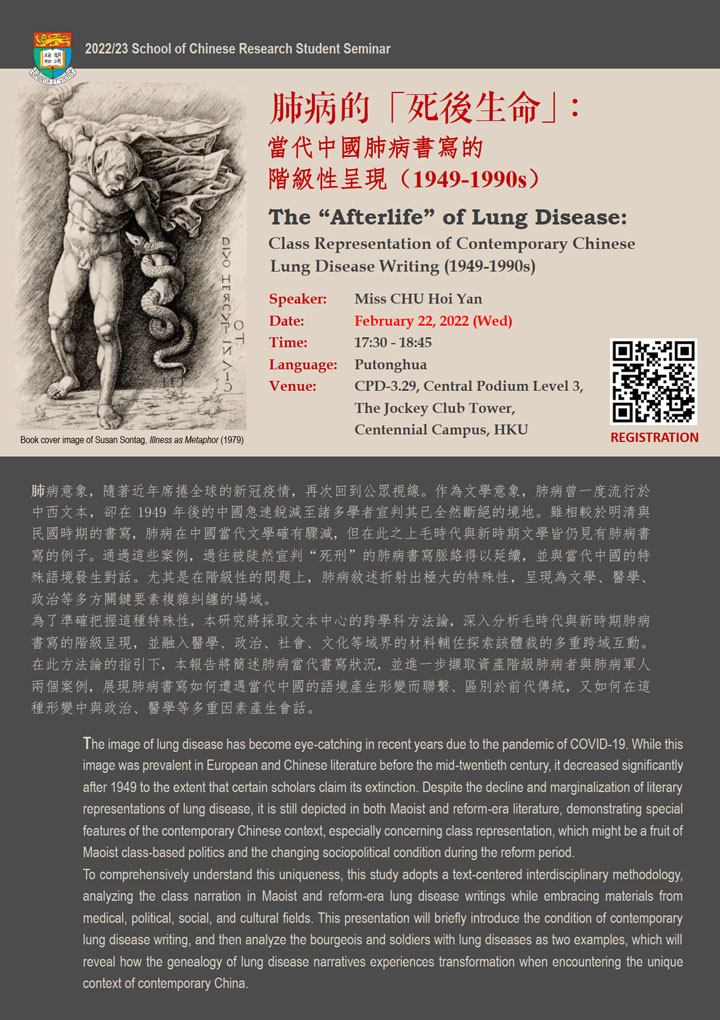 Dear All,
The student seminar of our School which was originally scheduled on 7 Dec 2022 will be rescheduled to 22 Feb (Wed) @ 17:30-18:45. The venue will still be CPD-3.29.
Thank you for your kind attention and participation.
School of Chinese
---
2022/23 School of Chinese Research Student Seminar
肺病的「死後生命」:當代中國肺病書寫的階級性呈現(1949-1990s)
The "Afterlife" of Lung Disease: Class Representation of Contemporary Chinese Lung Disease Writing (1949-1990s)
Speaker: Ms. CHU Hoi Yan
Date & Time: February 22, 2023 (Wed) 5:30-6:45pm
Venue: CPD-3.29, Central Podium Level 3, The Jockey Club Tower, Centennial Campus, HKU
Language: Putonghua
Mode of Delivery: 100% Face-to-face
肺病意象,隨著近年席捲全球的新冠疫情,再次回到公眾視線。作為文學意象,肺病曾一度流行於中西文本,卻在1949年後的中國急速銳減至諸多學者宣判其已全然斷絕的境地。雖相較於明清與民國時期的書寫,肺病在中國當代文學確有驟減,但在此之上毛時代與新時期文學皆仍見有肺病書寫的例子。通過這些案例,過往被陡然宣判"死刑"的肺病書寫脈絡得以延續,並與當代中國的特殊語境發生對話。尤其是在階級性的問題上,肺病敘述折射出極大的特殊性,呈現為文學、醫學、政治等多方關鍵要素複雜糾纏的場域。
為了準確把握這種特殊性,本研究將採取文本中心的跨學科方法論,深入分析毛時代與新時期肺病書寫的階級呈現,並融入醫學、政治、社會、文化等域界的材料輔佐探索該體裁的多重跨域互動。在此方法論的指引下,本報告將簡述肺病當代書寫狀況,並進一步擷取資產階級肺病者與肺病軍人兩個案例,展現肺病書寫如何遭遇當代中國的語境產生形變而聯繫、區別於前代傳統,又如何在這種形變中與政治、醫學等多重因素產生會話。
The image of lung disease has become eye-catching in recent years due to the pandemic of COVID-19. While this image was prevalent in European and Chinese literature before the mid-twentieth century, it decreased significantly after 1949 to the extent that certain scholars claim its extinction. Despite the decline and marginalization of literary representations of lung disease, it is still depicted in both Maoist and reform-era literature, demonstrating special features of the contemporary Chinese context, especially concerning class representation, which might be a fruit of Maoist class-based politics and the changing sociopolitical condition during the reform period.
To comprehensively understand this uniqueness, this study adopts a text-centered interdisciplinary methodology, analyzing the class narration in Maoist and reform-era lung disease writings while embracing materials from medical, political, social, and cultural fields. This presentation will briefly introduce the condition of contemporary lung disease writing, and then analyze the bourgeois and soldiers with lung diseases as two examples, which will reveal how the genealogy of lung disease narratives experiences transformation when encountering the unique context of contemporary China.
ALL are welcome*
*Pre-registration (Click HERE) is requested.