Main Content
New! Full-time MA in Chinese Historical Studies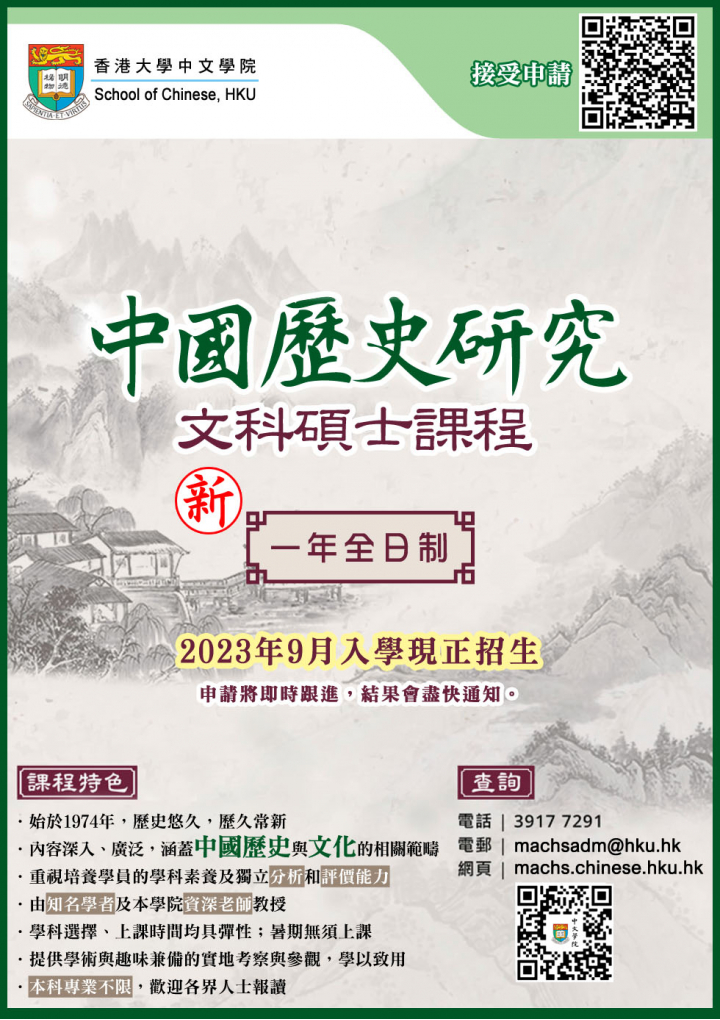 Founded in 1974, the Master of Arts in the field of Chinese Historical Studies (MACHS) is an evergreen programme which has been running for nearly 50 years, the only of its kind in Hong Kong. In addition to the reputable 2-year part-time programme, the 1-year full-time study mode will be introduced in the academic year 2023-24*. We welcome enthusiasts of Chinese history and culture, educators and life-long learners to apply.
Programme features:
The curriculum features a comprehensive coverage of Chinese history and culture, and particularly emphasizes the interconnectedness of history and culture. We offer a unique range of courses within the academic setting of Hong Kong.
The teaching team is comprised of renowned scholars and seasoned academics with a mission to nurture students through teaching excellence.
Inspiring fieldwork-trips to a range of historical and cultural sites and put knowledge into practice.
No prior specialized field or degree is required. Open for enrolment to all.
Programme information: https://machs.chinese.hku.hk
Apply online for 2023 admission: https://admissions.hku.hk/tpg/programme/master-arts-field-chinese-historical-studies The more complete the supporting documents, the speedier the application will be processed