Main Content
[活動回放]存史、資政、育人︰中國舊方志與新方志的實用意義 Preserving History, Providing Reference for Policymaking, Educating the People: Practical Values of China's Old and New Local Chronicles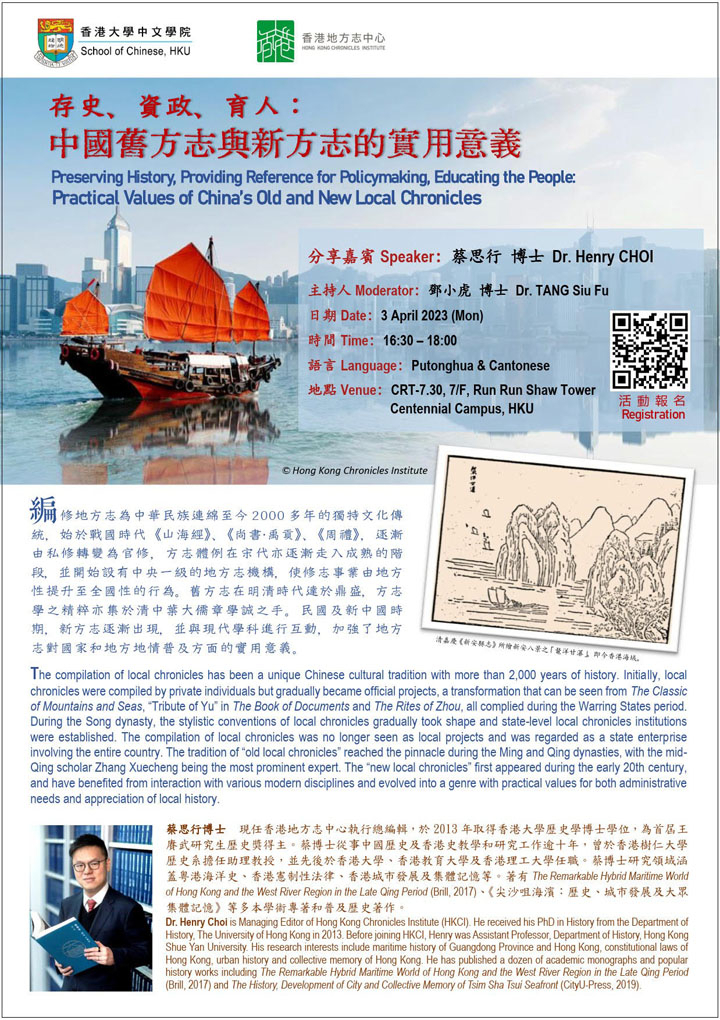 *******************************************************************
2022/23 School of Chinese Scholar Seminar
存史、資政、育人︰中國舊方志與新方志的實用意義
Preserving History, Providing Reference for Policymaking, Educating the People:
Practical Values of China's Old and New Local Chronicles
分享嘉賓 Speaker:蔡思行 博士 Dr. Henry CHOI
主持人 Moderator:鄧小虎 博士 Dr. TANG Siu Fu
日期 Date:3 April 2023 (Mon)
時間 Time:16:30 – 18:00
語言 Language:Putonghua & Cantonese
地點 Venue:CRT-7.30, 7/F, Run Run Shaw Tower, Centennial Campus, HKU
Zoom link: https://hku.zoom.us/j/91355975244?pwd=T0pGODV2Zm55bGRpaUh5eWxraklGZz09
Meeting ID: 913 5597 5244
Password: 469692
摘要:編修地方志為中華民族連綿至今2000多年的獨特文化傳統,始於戰國時代《山海經》、《尚書‧禹貢》、《周禮》,逐漸由私修轉變為官修,方志體例在宋代亦逐漸走入成熟的階段,並開始設有中央一級的地方志機構,使修志事業由地方性提升至全國性的行為。舊方志在明清時代達於鼎盛,方志學之精粹亦集於清中葉大儒章學誠之手。民國及新中國時期,新方志逐漸出現,並與現代學科進行互動,加強了地方志對國家和地方地情普及方面的實用意義。
The compilation of local chronicles has been a unique Chinese cultural tradition with more than 2,000 years of history. Initially, local chronicles were compiled by private individuals but gradually became official projects, a transformation that can be seen from The Classic of Mountains and Seas, "Tribute of Yu" in The Book of Documents and The Rites of Zhou, all complied during the Warring States period. During the Song dynasty, the stylistic conventions of local chronicles gradually took shape and state-level local chronicles institutions were established. The compilation of local chronicles was no longer seen as local projects and was regarded as a state enterprise involving the entire country. The tradition of "old local chronicles" reached the pinnacle during the Ming and Qing dynasties, with the mid-Qing scholar Zhang Xuecheng being the most prominent expert. The "new local chronicles" first appeared during the early 20th century, and have benefited from interaction with various modern disciplines and evolved into a genre with practical values for both administrative needs and appreciation of local history.
簡介:蔡思行博士 現任香港地方志中心執行總編輯,於2013年取得香港大學歷史學博士學位,為首屆王賡武研究生歷史獎得主。蔡博士從事中國歷史及香港史教學和研究工作逾十年,曾於香港樹仁大學歷史系擔任助理教授,並先後於香港大學、香港教育大學及香港理工大學任職。蔡博士研究領域涵蓋粵港海洋史、香港憲制性法律、香港城市發展及集體記憶等。著有The Remarkable Hybrid Maritime World of Hong Kong and the West River Region in the Late Qing Period (Brill, 2017)、《尖沙咀海濱︰歷史、城市發展及大眾集體記憶》等多本學術專著和普及歷史著作。
Dr. Henry Choi is Managing Editor of Hong Kong Chronicles Institute (HKCI). He received his PhD in History from the Department of History, The University of Hong Kong in 2013. Before joining HKCI, Henry was Assistant Professor, Department of History, Hong Kong Shue Yan University. He taught and did research on Chinese and Hong Kong history in various tertiary institutions for more than a decade. His research interests include maritime history of Guangdong Province and Hong Kong, constitutional laws of Hong Kong, urban history and collective memory of Hong Kong. He has published a dozen of academic monographs and popular history works including The Remarkable Hybrid Maritime World of Hong Kong and the West River Region in the Late Qing Period (Brill, 2017) and The History, Development of City and Collective Memory of Tsim Sha Tsui Seafront (CityU-Press, 2019).
Notice:
1) The seminar will be conducted primarily in a face-to-face mode;
2) All those who would like to attend the seminar are required to register online (Click HERE) on a first-come, first-served basis;
3) Email of confirmation will be sent to the registered email addresses and participants have to show the screenshot or print-out version of the email for entry of the seminar venue;
4) In light of the limitation of venue capacity, the participants whose online registration are put on the waiting list may have to join the event via Zoom in case of necessary;
5) Walk-in or late-comers will not be allowed for entry of the seminar venue unless situation allows.
ALL are welcome*
*Pre-registration (Click HERE) is requested.